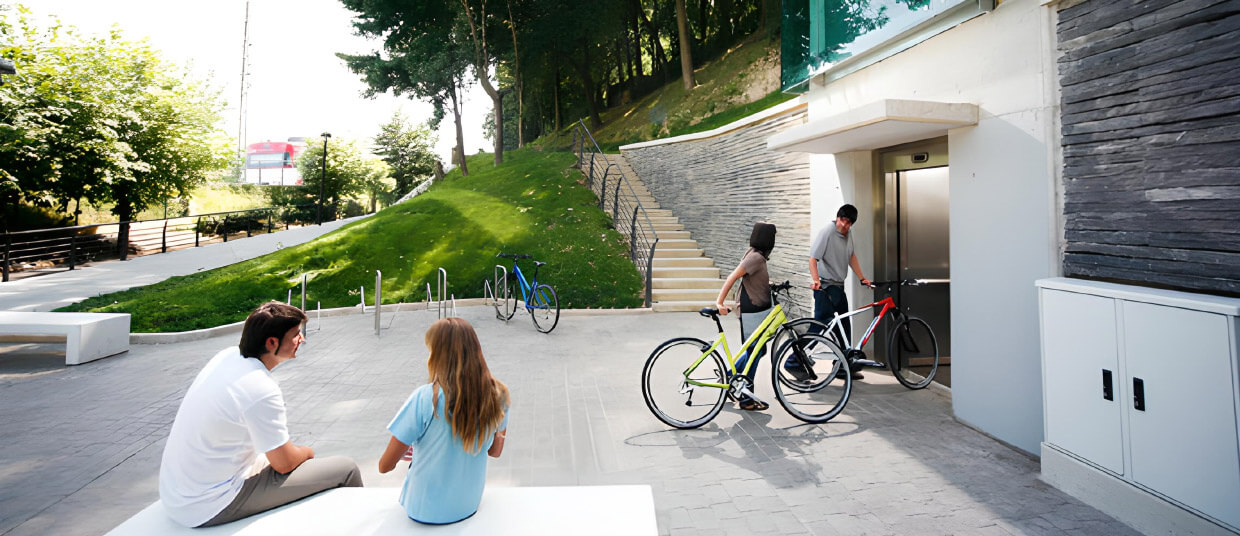 ORONA invests 2% of its revenues in R&D and has become one of Europe's top companies in terms of R&D investment
ORONA is developing a new innovation city where business, R&D centres, and university teaching are integrated within the same compound. The Orona Ideo is located in the area of Galarreta as a natural expansion of the Miramón Technology Park in San Sebastián, Spain.
We also have our Orona Innovation Center, oriented towards technological research and development for products in the elevator Sector. It incorporates Ikerlan and Mondragon Unibertsitatea as collaborating partners, and is accredited as a Business R&D Unit within the Science and Technology Business Network.

The NOR-A project will make an advanced energy savings solution possible for the ORONA lift range, minimising grid energy consumption and reducing the energy cost for the end user.
The overall objective of this project consists of developing class A+ lift solutions by minimising energy consumption of the lift's mechanical elements and using the energy generated and stored by the lift.
The A+ lift will be directed at the residential and public building sector, where users can benefit from the energy savings the lift will offer the building (possibility of BREEAM certification).
ORONA is the world's first company in the elevator sector certified in Ecodesign under the ISO 14006 standard. We believe that this commitment represents a competitive and strategic advantage in all of its aspects: social, environmental, and economic.
It represents our commitment to sustainability with a comprehensive and strategic focus, aligned also with our concept of commitment to the future. It is also an integral part of ORONA's values and business planning.
With its orientation towards society as well as its economic contributions to supporting activities in the community, ORONA always spells Client with a capital C. Our company culture and values are oriented towards a rigorous commitment to ethics, respect, and outstanding compliance with the Client's expectations. This commitment is also enriched by our special sensitivity to the needs of users whenever these represent additional challenges in terms of a "design for all" approach to the products and services ORONA offers. Our approach is to whenever possible avoid the creation of surroundings that may restrict or incapacitate any type of user in any way.
Solution-Centric Technology
Through an innovative model developed with constant efforts, We integrate the latest technology into the market and we are able to develop a wide range of solutions specifically designed for the characteristics and needs of each building.
Solutions for High-Rise Buildings
The next generation outbound line Orona 3G X-11 and X-14 are accessible and comfortable. Both safety and energy efficiency are at the highest level, maximizing all available space in vertical aisles. Allows installation of large lifts, installing elevators improves the quality of flesh for all users, and increases the value of buildings now and in the future.
Solutions for Existing Buildings
Orona offers the Orona 36X-17 Gearless electrical outlet for high-rise buildings, not requiring a machine room. This model boasts outstanding performance with speeds of up to 2.5m/s , capacity of up to 1,600 kg and driving heights of up to 100m, Travel more comfortably with an optimized design with 240 connections per hour in rugged operation.
This model is designed and produced by ORONA with the uses of the highest technology in concept and all manufacturing steps. all key components are manufactured in Europe and are guaranteed to be of the highest quality and reliability.
To know more and Need a Quick Quotation? Call our hotline!